Welcome to Prosocr
Sports data analytics powered by Machine Learning
Follow us for News | Help | Support
This is a new website by ProSoccer (Prognosis Soccer) that will host the next generation of free predictions for soccer, basketball and tennis, sports data and analytics, plus many additional exciting features. Please select one of our topics: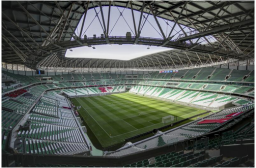 Photo by Damir Senčar
World Cup Final Prediction
NEW: Free soccer match predictions from the Prosoccer v2 engine with characterization of probabilities and odds ...
Show Upcoming Matches
NEW: Live Group Standings
Live update of group standings according to current match scores ...
Show Standings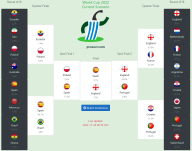 Live Team Pairs Scenario
Live scenario of team pairs for the knockout matches updated with current match scores and our predicted probabilities ...
Show Scenario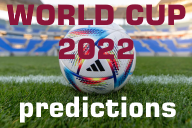 World Cup Winner Prediction
We use Machine Learning to generate probabilities for each national team to become soccer world champion ...
View Prediction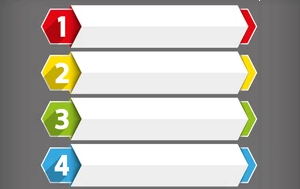 Group Stage Prediction
The first phase of our algorithm gave probabilities for the team standings after the end of the group phase ...
Show Groups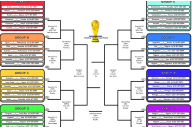 Knockout Progress Prediction
Probabilities to advance to the next stage of the competition. You can view what chances a team has, if it would reach the Round of 16 ..., Quarter Finals and Semi Finals .
Predicted Progress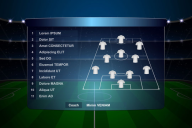 National Team Lineups
Discover the players that will represent their countries in Qatar and additional squad data ...
View Lineups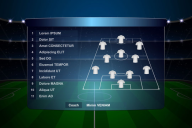 Soccer Clubs in World Cup
Have a look at which soccer clubs have the most players in the world cup ...
View Clubs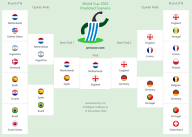 Original Team Pairs Scenario Prediction
The original scenario of team pairs for the knockout matches according to our predicted probabilities ...
Show Scenario